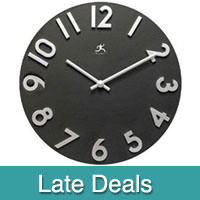 The Golden Rules of how to sell more Salon Late Deals
After helping over 100 salons promote their late deals over many years, we know that those who do very well follow some basic rules.
Here are our top tips on how to sell more Salon Late Deals.
Click on each section heading to see the fill information...
Post EVERY week on the SAME day.
If you establish a regular pattern of when you post your deals, your clients will get used to that and also you won't forget to plan your deals.
No time to schedule? Use our NEW Permanent Deals that you set just the once - or 'favourite deals' that you can republish in a matter of seconds at the start of each new week. Click here to read more on how to add late deals.
Offer bread & butter services - plus some specials.
Most clients will want a Cut & Finish or Colour. So most of your deals should be for popular services (even in small numbers) with a few added extras that show the range of other services that you provide.
Don't over discount.
We have seen salons sell lots of deals with discounts of 25% or less. So don't think you have to offer 50% off on all deals. And in your settings on YourSalon.co you can choose to "hide the Savings column". So if your discount/saving is lower, don't bother showing them - just the new price.
Be creative with which pages show deals.
Did you know you can place a special set of deals on any page by setting up a new 'location'?
So if you have an event you can have some deals on their own page JUST for that date/event. Or promote a new/returning stylist on their own page and place JUST their deals on their page. Or launch a new service on its own page and have deals JUST for that service on the page.
Tailor Late Deals to specific pages like 'hair colour' or 'gents hair', too. You can fine-tune your marketing or create a campaign based around one particular subject. Click here for a great example.
Utilise our amazing Late Deals 'Add-on' feature.
Did you know? You can now create 'add-on' services that will appear when a client claims a Late Deal. Simply click on the 'Deal Add-ons' section within YourSalon.Co and follow the instructions.
You can tailor the add-on depending on the kind of service the client has claimed. You may want to add an Olaplex treatment as an optional add-on when someone claims a hair colour deal, for example. This is producing some fantastic results.
Use deals to replace across-the-board discounts.
If you offer a New Client discount think about moving this to Late Deals so you control the number, reduce the discount and (on Paypal) get pre-payment. We have seen this work brilliantly at some salons.
Promote, promote, promote!
There are many ways to market your Late Deals. First of all, you need to make sure you have followed all of the steps above. Then let's get sharing!
Work alongside your Client Manager to send one short, snappy, image based e-shot per month to your client database, linking through to your Late Deals page.

Ask your staff to share a link to that week's late deals once a week - maximising coverage and getting invaluable exposure for free.

Spend £10 or so per week on a targeted Facebook advert. We can help with this - simply ask your Client Manager for assistance.