How To Prepare Your Salon For Re-Opening
How To Prepare For Your Salon Re-Opening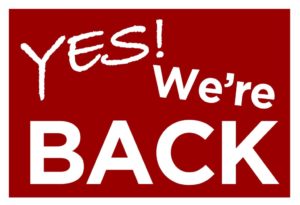 The world will likely be a very different place when you reopen your salon. Salon Guru can help you. Email Phil Evans at info@salonguru.net if you would like help now. In the meantime, start thinking about the following:
Keep talking to your staff throughout the lockdown period so they feel appreciated, supported and part of the team. We even have some financial tips you can share with your team so they can make savings during lockdown.
Keep talking to your clients using your social media platforms and newsletters. Issue public statements reassuring clients of your hygiene and protection procedures. Consider testing staff for high fever twice a day - and let your clients know about these measures you have put in place.
Make sure you have a full complement of staff ready for your re-opening. Salon Guru can help you with this by setting up Facebook and Instagram advertising to reach stylists or beauty therapists in your area. This is low cost and these adverts are much more likely to be read and followed up by potential new recruits during lockdown when so many are reliant on social media for entertainment.
Rethink your salon layout. Most people will be cautious of getting to close to others when your salon re-opens so consider reorganising your salon layout to maintain a degree of self-distancing.
Rethink your salon opening hours. When you re-open you will be busy so this may be a time to open for longer each day and possibly 7 days a week until things calm down.
Rethink how your organise your team. Consider having two teams working at different times. This will reduce contact and you can keep your salon open for longer. You may also want to stagger appointment times to avoid congestion.
Consider wearing protective masks & gloves. Your staff and clients may also feel more comfortable if you wear protective masks and gloves during the first few weeks of re-opening.
Attract existing clients back into your salon. Keep talking to your clients via your social media channels throughout the lockdown. They will need reassurance that your salon is sanitized, your staff are going to take precautions and your salon will maintain a degree of social distancing for a while (just in case).
Attract new clients into your salon. We can help position your salon as THE best salon to visit once the Coronavirus lockdown is over. Rethink your New Client Offer which will need to be 'tempting' but also show how will continue to take the safety of your clients seriously and take precautions with a degree of social distancing in place in your salon. As soon as you know your salon will be allowed to re-open, talk to Salon Guru about running a comprehensive, low cost facebook and instagram advertising campaign to attract new clients.
Organise your clients in order of 'priority needs'. It is likely you will be very busy in the few few weeks after re-opening so consider how you are going to prioritise your clients. Do you do hair colour only for the first week, for example? If you have offered VIP slots to customers who purchased gift vouchers, make sure you book them in as a priority.
Make sure your website is up-to-date and looks amazing. Check your price list is up to date; look at your team staff profiles and ask yourself whether they could be better - something sensible like this or something silly like this or something a little 'out there' like this or something with moving images of your team like this; make sure you the latest images and showcase your own stylists or beauty therapists' work; check your offers are relevant and working for you...
Keep your clients coming back again and again. Client retention schemes really do work. Add a loyalty reward scheme to your website. Check out these examples here, here and here.