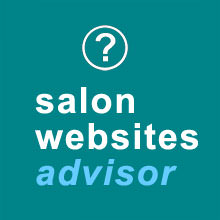 These are the most important elements of the best salon websites – that most website designers fail to provide.
If all you have is an attractive salon website with nice words – then it is like having a beautiful Porsche in the garage and not knowing how to drive. OK, you may get some admiring glances, but people will not want to travel with you.
So this is an instruction manual on how you turn your Salon website into a super-powered motor, AND the knowledge and tools you need to drive it, and your salon, to rapid financial success.
All of this information is covered in other pages of this site in more detail, but this is a quick introduction to getting your salon website on the right track
---
Click on any section below to access the detailed description.
Capture client information for salon marketing
Capturing client information is an absolute priority if we want to pro-actively market to large numbers of people over the coming years, and this task is in Step 1 of the Easy Steps to a great salon web site.Encourage clients to join your mailing list, become an online member or download vouchers and hair guides. Every part of your website should encourage them to leave their email address and name – and allow us to sell to them in the months to come.There are some great tools to manage capturing client data and these are described in more detail on the page Tools for salon websites – Email Managers.
SELL your salon's services and products
On other pages we describe many effective ways to advertise and promote your salon all over the Internet using Facebook, Google and other websites. BUT does your own website sell your products and services?This can be as simple as good content that describes your services and products in a way that attracts clients. E.g. do you have an informative page on hair coloring techniques and the latest seasonal colours, or a page that describes and shows the high value products you sell like gdh stylers or Wella SP?
But perhaps the best way to constantly promote to website visitors are your own adverts embedded within your own website. With the right tools you can have sections of each salon page that highlight your current offers, describe new products, sell holiday events. You can vary these by page and throughout the site – giving you a very powerful way to inform and sell to your clients. These can be changed on a weekly basis to ensure you are always ahead of your competition.
Have web content that is timely, relevant and interesting
The website adverts above are a great way to have "timely" content i.e. promotions for Valentine's Day, gift ideas for Christmas and seasonal colour offers.But another way is to create up-to-date content using blog software and then embed this in the relevant pages of your salon website.
So a short story and a great image for the latest celebrity haircut on your cutting page or the latest colours for Spring on you hair colour page.
Although less direct than the adverts, they are brilliant way to promote your hairdressing services and styling products.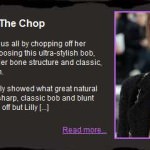 An example of a blog post to sell hairdressing services. Click to enlarge
Engage clients with "calls to action
Another very obvious, and very important selling technique that is completely overlooked by most salon websites are the "triggers" that will capture the website visitor as a client.Put yourself in the shoes of a typical website browser and although your site may be attractive and interesting, does it really grab your attention and prompt you into action?
A "call to action" can be as simple as a prominent message like "make your appointment now" – but we can do a LOT better than that. If you have an offer for a set period of time e.g. a 25% discount on colour until the end of the month, then a system that has worked incredibly well for some salons are down-loadable vouchers.
Put a prominent advert on your website (and with salon website advert managers this is easy) that allows them to click the offer advert and get an automatically sent email voucher. Not only is the client more likely to visit your salon but we have also captured the contact information for future marketing.
An example of a great Salon Voucher advert. Click to enlarge
We have provided more details, and examples of great campaigns in Vouchers for Salons
If you incorporate really well-planned "Calls to Action" throughout your website, it WILL have a rapid and substantial effect on salon turnover and new clients.
Get your website seen!
Implementing all the elements above will give you a salon website that can perform far better than your competition, but a great website needs to be seen!The next major task is Search Engine optimisation (SEO) for your salon web site
It can be time consuming and complex – but it is vital if we are aiming for a big boost in website visitors and salon turnover.
Inform your customers about your salon
This is often reasonably well managed by most basic salon sites. But now is a great time for a review of the information on your site – is it correct and up-to-date, is it easily found by visitors, does it "informWe are going to need some very strong salon marketing messages over the coming months, so review your site to see if you have some of those "key messages". If they do not exist, then now is the time to start work on what words and phrases will SELL your brand, your salon services, your customer service, your ethos…. your salon.
There are various examples of great salon marketing messages throughout this site, modify them to suit your salon or create your own.
Check out our reviews of salons websites from around the world for the good, the bad and the ugly of salon website design. You can learn a lot from other peoples mistakes!
Inform YOU about your customers
If you use the right tools then your website can provide an enormous amount of information about the visitors to your website.Software like Google Analytics can show you –
where your visitors come from
how they found your site
what search terms they used
what external sites link to you
what pages people visit
how long they stay
Read the page Google Analytics for salons for more information on this invaluable piece of software and start understanding your clients and website visitors.
Further reading –