Every Salon Owner knows that a great review can attract new clients - and that a bad one can do untold damage.
So we created our Salon Social Reviews system to give you total control of your Salon's online reviews.
Good salon reviews are posted (after approval) to your Salons social media (facebook and twitter) and will ALSO post as the client to their own newsfeed. Those reviews also appear on your own salon website Reviews page.
Bad salon reviews can be dealt with discretely and will not appear anywhere but in your private admin section.


The power of Social Reviews...
Why is this system so powerful as a salon marketing tool?
If you encourage all clients to leave a Review - either via text or email after their visit or whilst in the salon, you will have a constant flow of Reviews for your website.
But when you APPROVE via admin the good reviews then appear on your Salon Facebook page (useful) - and post AS THE CLIENT to their own newsfeed (amazing).
This means (on average) every happy client is telling their 300 facebook friends about how much they love your salon.
This is free viral marketing for your salon. Sign up for free at the bottom of this page.
And the facebook post (or tweet) links straight to your website if clicked.
---
How Salon Social Reviews work...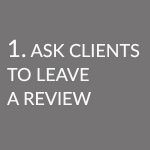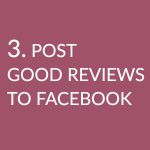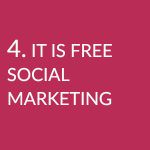 You first visit your listing on YourSalon.co and ask us to add
Social Reviews.
Once we have added the feature we will give you some code to add to your salon website reviews page.
That code allows clients to leave a review and also shows any existing approved reviews. So all Reviews are seen and written on your own website.
The page will look like this
But, the admin for Reviews is on YourSalon.co - like Late Deals.
When a Salon Review is left on your website we send an automatic email asking you to visit YourSalon.co and approve or respond to the review.
If you approve the review it will -
appear on your website Reviews page
post to your Salon's Facebook page and Twitter
post as the client to their own newsfeed
Sign up for free at the bottom of this page.
---
Other features of Salon Social Reviews
The post to your facebook and the client newsfeed has 4 elements -
a Title like "a great salon Review". You can edit in admin the text for the Title.
a Description - this will be auto-filled with the client's review
a Picture - this gallery has many suitable salon/hair images so you can change at any time
a Link - you choose which page on your website they visit if they click the post
The reviews on your salon website page will have the name and a small facebook profile image of the client that left the review.
How the review post could look like on the client's facebook newsfeed...

See Salon Social Reviews in-action
Nearly all our 130+ salon websites use Salon Social Reviews. Some of their Client's Salon Review pages can be seen on these links.
Christian Wiles
Voodou
Fox Hair
Notes:
If you choose 1-3 stars (an unhappy client) the client completes a feedback form that is sent to the salon for response.
4 & 5 stars triggers the form for a Social Review.
Reviews are held on Yoursalon.co for approval and the salon is notified via email.
Once approved the Review is 1st posted as the client to their newsfeed.
You can choose to post any review as the salon to your own page on facebook.
Clients get a thank you email that you can edit to become a voucher.
At the moment facebook is the only way to post. Twitter will be added soon.
YourSalon.co has a Settings page where you can edit EVERY part of the process.
The Reviews management screen is shown below.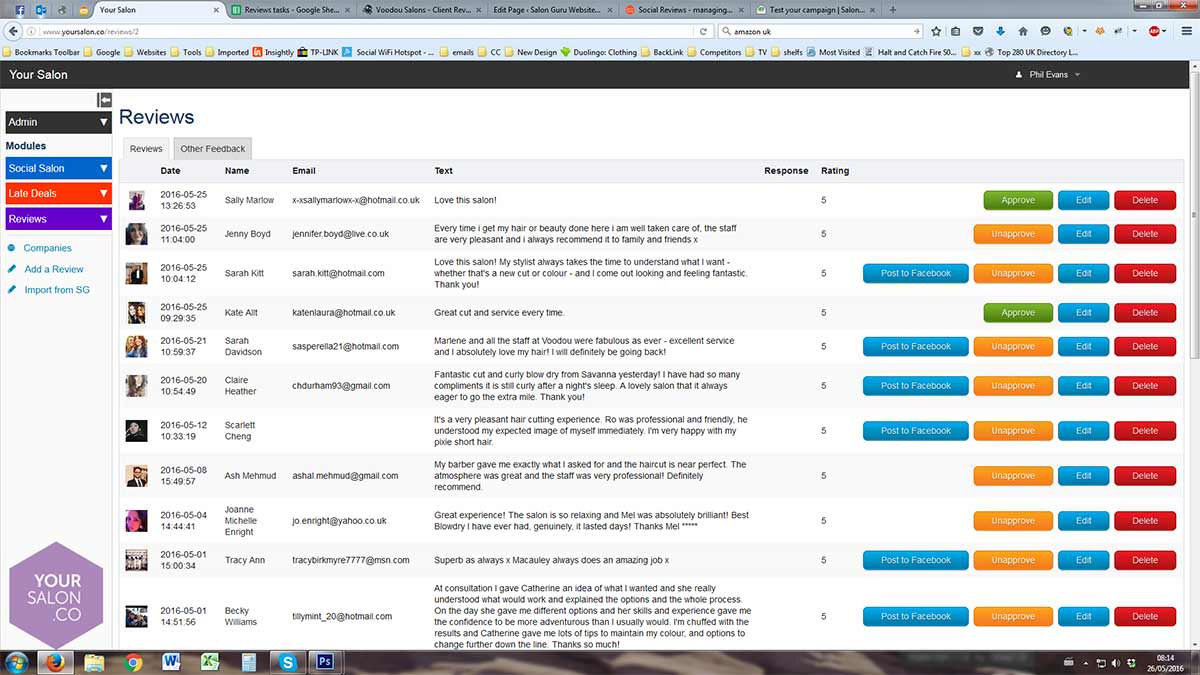 Sign up for free at the bottom of this page.
---
The Costs of Social Reviews
Salon Guru website clients get the Social Reviews system for free .
If you do not have a website from us you can still use all the features but a costs of £30 ($40) a month. Now Free !!
New Salon Review features added..
We have rebuilt the entire Salon Reviews system to add these features -
Reviews are now pulled into any web page faster.
The client Reviews are structured so that Google recognises them as authenticated Reviews.
Any page that has Reviews will now show on Google search with the number and average score of the Reviews.
Tags can be added to Reviews for staff, salons, services etc. This means subsets of reviews can be pulled in for each staff member on their Bio, or for a particular service, or the best Salon Reviews onto the Home page.
On YourSalon.co you can see what Tags have been used and what Reviews use any tag.
How to use Tags
Tags allow you to pull any group of reviews into a page on your website. This is great for reviews for a particular stylist, or group reviews for each salon (if you have more than 1), or choose the best 5 for your Home page or place Reviews about Hair Colour on that service page.
Not only does it make the page more enticing for clients, it also places the Reviews (and the gold stars) into the search results for phrases that link to those pages.
On Yoursalon.co when approving or editing a Review you will see a new field at the end "Tags ( comma separated list with no spaces )". This lets you add Tags to each Salon Review.
We suggest 4 characters, all lower case that define the staff member, salon or service. E.g. paul or colr or lou1. You must use the same exact tag each time for that "group".
If a Review is for the colour page AND Paul AND the home page, add them all with commas separating - but NO spaces. E.g. colr,paul,home
If you need to see what tags have been used on what Reviews use the pink TAGS button at the top of the screen. You can edit any Review to remove or add Tags.
Once tagged we can add the code to pull that group into any webpage for you.
If you would like more information on our amazing Salon Reviews system just add your information below..
---