Facebook Timeline for Salons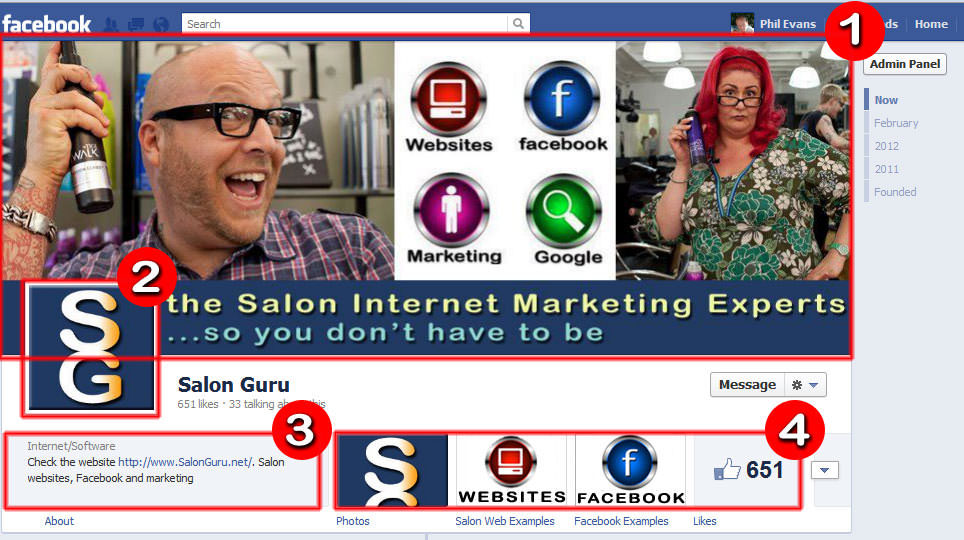 Timelines and your Salon Facebook Page
Changed layout
The most obvious changes are to the layout – so these are the things to know and are marked on the image above
The big Timeline image (Cover Photo) gives your page a lot more impact. The size is 851 by 315 pixels.
BUT it cannot include –
Price or purchase information, such as "40% off" or "Download it at our website".
Contact information, such as web address, email, mailing address or other information intended for your Page's About section.
References to user interface elements, such as Like or Share, or any other Facebook site features.
Calls to action, such as "Get it now" or "Tell your friends".
Your Salon Profile Pic is now 180×180 pixels and it will resize to 32×32 as the thumbnail next to your posts on Fans newsfeeds. Use a good quality image and a simple logo.
The About Us section is the place for you website and phone number and a few words of description. It is about 150-190 characters – depending on the word sizes.
The old Tabs or Links that were on the left of your page are now Apps and sit at the top. There are 4 displayed (more open with the drop down arrow). The 1st is always a photo (random) and one is you Fan count. So you have 2 "empty" App slots visible (more on this below).
But apart from the change to the layout – there is also a big change to the way that facebook Tabs work.
Tabs are now Apps
You used to be able to create a Tab that appeared before someone "liked" your page – we called these Like Us Tabs and the process of "requiring" a Like before they saw your page was called fan-gating.
This facility has been removed – anyone can see your page and they do NOT have to "Like" it first !
This means that unless you make some changes you will miss out on getting new fans and your posts will not appear in their facebook newsfeed.
The solution to this problem are the Apss shown as item 4 above. These are the same as the old Tabs in that they let you show a small page on content – and you can show different content to Fans and non-Fans. So your App CAN say "Like to reveal hidden content" and the like refreshes the screen with the photos, text, voucher or any other content.
So, it is vital that any links to your facebook Page (i.e. from your website) do not go to www.facebook.com/MySalon but go to the App that asks for the Like . To see this in action follow this link to an App on my Facebook Page.
The images of Salon Websites are only visible to Fans and therefore give us the ability to hide content from non-fans and still get "likes" and new fans.
This change to the way your Salon facebook page works is important and needs a rethink on your Tabs/Appps and the links you use.
One nice new feature is that the Apps have an image (see 4 above) as opposed to the text links of Tabs. The new window that opens when you click an App button is also wider at 810 pixels rather than the restrictive 520 of the old tabs.