the Salon Guru team
Meet the Gurus
Salon Guru is a collective of highly-skilled people with the experience and knowledge needed to create the best salon websites and marketing in the world.
Where Salon Guru differs to other website design companies is that we are only a salon website company - meaning we specialize in just that – hairdressing and beauty salons. Phil Evans leads a team of global experts, or 'Gurus' who not only have key skills in their chosen field, but they have all developed a vast knowledge of the hair and beauty sectors to ensure we create the best salon websites for content, SEO and functionality.
Along with making your hairdressing website reflect your brand and showcase your business, our Gurus work alongside your team to deliver salon online marketing initiatives that will make your salon business more money!
Using the internet, our team can collaborate on projects in every part of the English speaking world - even though we have no physical office. Employing the very best people in the world, no matter where they are based, gives us the best skills and our salon clients the best marketing experience.
---
Phil Evans
Salon Marketing Guru - and MD of Salon Guru
Before moving into the hairdressing industry Phil spent 15 years in the computer software sector; designing, creating and installing complex systems. Phil has a vast knowledge and experience of many software language and operating systems and designed and developed some of the early internet sites in the mid 1990's.
For over 25 years Phil has have been involved in the marketing and management of hairdressing salons and during the last decade, Phil has focused on making the internet and the salon websites he creates work efficiently for his salon clients. His expertise and knowledge of salon website systems, e-marketing and social media for salons help assist Salon Guru clients to improve turnover, attract new clients and retain customer loyalty.
Phil thrives on the fast pace of Internet marketing innovation and the massive opportunities this offers to all hairdressing salons, barber shops and beauty salons. He has written articles on the subject of Salon Marketing for many well known magazines including Professional Hairdresser, Creative Head and Nails Magazine. Phil is one of the "ask the Pros" experts on SalonGalaxy.com – the biggest social network of salon owners in the world.
When not at his computer (which is not very often!) Phil can be found on his Wii Fit or indulging in Spanish tapas.
---
Sam Kennedy
Salon Websites Designer & Technical Director
The mid 80s and the gift of a new Sinclair ZX 81 computer started an obsession of all things computer related for our technical Guru, Sam.
With HND qualification in electrical and electronic engineering and a BSc from the Open University, Sam has over twenty years experience in server administration and a wealth of knowledge in this field.
In the back end of the '00s Sam met Phil through a previous company he was working for and Phil recognised Sam's expertise, snapping him up to become the company's Technical Guru. Sam loves the diversity of the work at Salon Guru which is ever changing and evolving, in line with the speed of global digital change.
As a self taught technical whiz, Sam has the drive and thirst for knowledge when it comes to seeking out online solutions for Salon Guru client requests.
When not in front of his computer (significantly upgraded since his Sinclair ZX 81 days you will be glad to know!) Sam can be found racing one of his two motorbikes round the beautiful Scottish highlands or playing a hit from The Cult on one of his four guitars. Why he needs 2 bikes and 4 guitars we're not quite sure.
And yes, in the picture above, proud Scotsman Sam is indeed wearing a kilt. Which, for the benefit of those who may not know, is basically a skirt… for men. Best not say anything to him though, he does after all have the power to take you offline!
---
Sarah Kitt
Lead Client Manager
We can't help but feel that Lead Client Manager Sarah Kitt has ended up in the right job at Salon Guru. After all, she did spend many years having her hair experimented on by her hairdresser sister!
While her hair was being permed, coloured and cut into the latest Spice Girl style, Sarah trained as a journalist, working on newspapers and in public relations.
After more than 25 years' in the media industry, Sarah offers expert support for some of our salons in the UK and Australia. She keeps their websites up-to-date with the right pages, news articles and top phrases when it comes to Search Engine Optimisation (your 'Google' ranking). She also produces effective electronic newsletters, press releases and social media snippets for clients.
We're also delighted to report that Sarah's sister now runs her own successful hair salon in Hampshire and that Sarah's hair has officially recovered from the ordeals of the 1990s!
---
Gail Paxson Murray
Client Manager for our US salons
Gail is a Consumer Marketing Guru and self-proclaimed beauty product junkie
After receiving a BS in Marketing with a minor in French (West Chester University/ School of Business and Public Affairs) Gail started her early career in the cosmetics industry.
She spent 20 years working for Yves Rocher, a French skin care company and merchant of all things beauty. As marketing director for US and Canadian customer loyalty, Gail developed an expertise in direct mail, A/B testing, consumer copywriting and promotional incentives. With the shift in technology towards the web, she led the company to modernize its website, and was the project manager for their e-commerce renovation. Gail was fanatical about putting the consumer first, and became a pioneer in online selling techniques, web analytics, merchandising and email marketing.
Today, she continues to help companies from various industries develop their websites in order to cultivate new clients, engage existing clients and drive overall success.
Gail is married with two teenage children. In her spare time, she enjoys home improvement projects and recently started a blog to showcase her before and after pictures.
---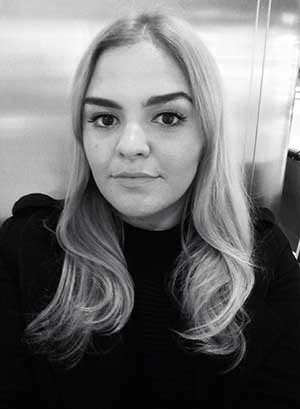 Kate Allt
Client Manager for some of our UK salons
As a self-confessed beauty product junkie, Kate is our youngest team member – but don't let that fool you! Having spent over a year working for a leading UK hair extensions brand, and with a keen interest for creative writing, Kate offers expert support for a number of our salons in the UK.
As one of our client managers, Kate offers day to day liaison with our UK client base - keeping their websites up-to-date with the right pages, news articles and top phrases when it comes to Search Engine Optimisation (your 'Google' ranking). Kate also produces many effective email newsletters for clients on a monthly basis.

---
Stefanie Hornsby
Client Manager for some of our UK salons
A hairdresser by trade Stef ran and managed a busy city centre salon in Manchester for over 10 years working on the heads of many well know television stars. Her creative eye and talent for precision cutting saw her work closely alongside a leading global haircare brand to deliver high quality hairdressing training and in-salon education.
Wanting to share her hairdressing and beauty knowledge in a different way she now helps to keep our UK websites up-to-date with informative pages, the latest hair & beauty trends and the best phrases for Search Engine Optimisation (your 'Google' ranking).
When Stef is not running around after her two young children she can be found in the hills around West Yorkshire on her mountain bike or on the couch with a glass of wine!
---
Mike Belshaw
Graphics and Design Guru
Mike's award winning eye for design has resulted in many awards and high profile clients over the last 3 decades.
Originally a celebrated furniture designer, Mike has spent many years interpreting a client's vision and turning it into a design reality. He has designed iconic furniture for internationally famous pop stars, TV shows, sports celebrities and nightclubs. Mike has a wealth of experience creating things of beauty that will capture the eye of many.
Over the last decade Mike has turned from the real world of furniture to the virtual world of web graphics. Using tools like Photoshop and Illustrator Mike creates the visuals that will make your salon website stand out from the crowd.
Your salon website is a 'virtual shop window' to your business, and so Mike's keen eye for design detail will ensure your Salon Guru website meets your brand identity and business values and entice customers to not just visit your website, but turn that virtual visit into an actual visit to your salon.
In his spare time, Mike runs his highly successful music blog 'Fade to Grey' where he aims to bring the forgotten music of the 1970's to the masses. Mike is keen on pottery, keeping fit in his home gym and daily walks with his two dogs.
---

Shane Marsh
Technical Manager
Shane's passion for IT started at secondary school while working, for free with the IT Manager. Working after school time, he helped school staff with various IT Jobs and this was his first taste of working in a semi-commercial environment.
Since then, Shane has built over 10 years of hands on experience working in various aspects of server administration and website design with his first paid IT role was working part time whilst at college with Stanley Associates building custom computers for clients. At college, Shane gained qualifications in Advanced Vocational ICT and Discreet Electronics. He then started working full time for a local school as an IT & Audio Visuals Technician where he assisted the Network Manager with all aspects of the Schools Server equipment and 500+ PC's. Since then, Shane moved on to working with many different types of business from Charities, family businesses to Hair and Beauty Salons.
Shane Join the SG team in January 2015 and looks after the building of new websites and email accounts. Like Sam, Shane is a mostly self taught technical wiz and enjoys problem solving and providing as much support as possible.
Very rarely more than 2 feet away from a PC he can often be found upgrading his own custom built home theatre system playing with Raspberry PI's. On the rare occasion he does venture out into the open air, you'll probably find him down the local pub singing Karaoke!
---
Client Manager for some of our UK salons
Caroline's career began at the Bank of England, where she trained as an analyst and worked in a range of areas including HR and as a team lead in the Statistics Division.
After a career break while her children were young, Caroline returned to work as a freelance data analyst for a major water utility. She then went on to retrain, working in website design and SEO for a successful retail start up. She loves her job at Salon Guru as it allows her to pursue her longstanding personal interest in hair, beauty and design.
When not at her computer looking after her clients' websites, Caroline enjoys Pilates, baking and traveling with her family.

---
Associate Gurus
As well as having our own team of in-house Salon Website & Marketing experts, we also work closely with other highly skilled individuals and companies to deliver the Best salon Websites in the world.
David Levine
Commercial Director of Salon Intelligence
Working in the Salon Industry and salon software market for over 20 Years, founder of Computill, i-salon and SalonEmailMarketing.com. Co-owner of the GREAT hairdressing Group in Kent and Sussex ( a Salon Guru Website client)
---
Antony Whitaker
Founder of GrowMySalonBusiness.com
Antony Whitaker is at the cutting edge of hairdressing and is internationally acclaimed and respected as one of today's premier talents as an educator, motivator and hairdressing businessman.
---