Google Analytics – your salon website tracker
Google Analytics is an incredibly powerful tool for measuring the performance of your salon website and your Internet marketing campaigns.
For good reason this is the first item in Easy Steps 1, and if you or your web designer does not have it installed (or a very good alternative) then do it today!
In the words of Google, "it gives you rich insights into your website traffic and marketing effectiveness".

Within hours of installing this small piece of tracking code you can start analysing your website traffic
how many visitors to my site by day, week and month?
which pages do they visit?
how long do they stay?
which links do they click?
where are they from geographically?
And although this is only the beginning, you can already start making informed decisions based on the results.
---
The Basics of Analytics for Salons
Some of your first questions may be –
is your site getting more traffic?
which pages on your site bring the most traffic and which need more work?
are people spending time reading your content or just popping in for a phone number and address?
do you have any eye-catching links and images that get clicked?
In this chart – 24,000 people made 31,000 visits to this website in a 3 month period. Click to enlarge.

Once we have the basic measurements in place, then we can start to delve further into the masses of information that Google Analytics provides.
---
Knowing where your Salon Website visitors come from
A very important statistic is the break-down of how people are finding your website. This could include-
direct traffic – they know your website address and typed it in
search engines – they searched for key words or phrases that brought them to your site
referring sites – other websites that had a link to you salon
A break-down of website visitor sources In this chart – Search Engines drive 67% of the traffic Click to enlarge All of this information is invaluable when planning future campaigns and we can now take this a step further to look at how individual marketing activities are performing.

---
Seeing what works and what does not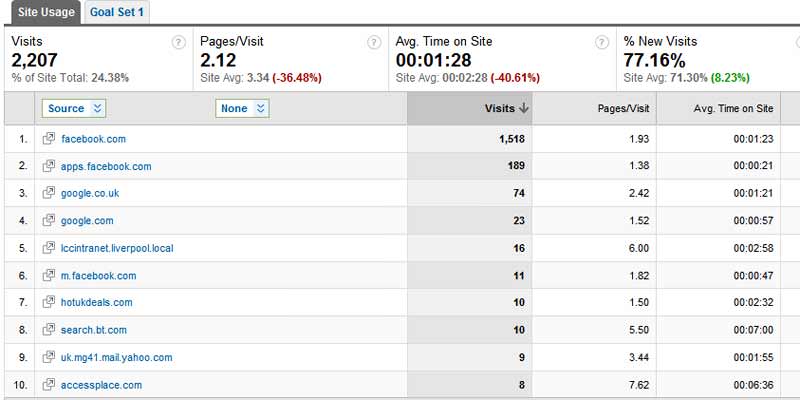 Now we know your summary website traffic figures and where they come from, we can dig deeper and assess the effectiveness of "Referring Sites" i.e. other websites or Internet adverts that link to your website. Click the image below to see a salon attracting over 1,500 visitors in a single month from their Facebook page. These figures are updated every few hours so if you placed an advert in a local paper's website you would know within 24 hours the traffic it was generating!
Traffic from Referring Sites Facebook has sent over 1,500 people to this hairdressing site in 1 month Click to enlarge
Links from external sites are good (and Facebook is brilliant), but the biggest generator of traffic to your site is what we look at next.
---
Google Search for Salons – the not-so-secret weapon
Probably by-far the biggest driver of traffic to your website will be Google search, IF your website has been designed properly! This page explains the considerable work needed to get your salon to the top of Google using SEO, so we will just look at how Google Analytics helps us measure the results – and make decisions. On the results shown to the right Google account for 96% of all search engine traffic, so that is what we will look at in more depth.
Traffic from Google Search In 1 month 682 searchers were sent to this site BUT this is just the top 10 from a list over over 1,600 phrases that sent 6,400 visitors in total Click to enlarge
This enormous amount of detail on search engines and the traffic they bring should guide our decision making in many areas. Primarily, we need to strive to improve our Rankings in the search results as described in the link above, as higher positions will bring more traffic. But we also work to ensure that high-value services like colour correction and hair extensions are bringing new clients to the salon and boosting turnover.
---
In Summary
Google Analytics is a massively powerful tool that allows a salon owner to track their improving performance over time. Installing this tool should be the first step in your campaign. This is just a brief introduction to Google Analytics and I will delve further into the system in future posts.