This is the 4th guide in the series Facebook for salons and focuses entirely on the use of FBML and IFrame Tabs. Don't worry that's (almost) the last bit of jargon.
This guide was to include other advanced features, but tabs are so detailed, important and profitable that the other features will now follow in guide 5.
You can also read and download this guide as a PDF file here
What are Facebook Tabs?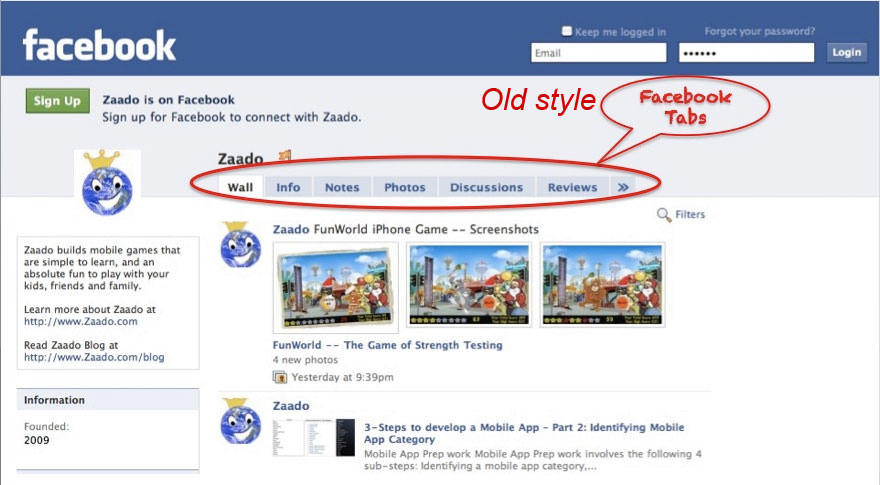 A note of explanation first. Tabs used to be the row of buttons across the top of your page like this – note: all thumbnail images can be clicked to enlarge.
From March 2011 a new facebook page layout that was introduced – so now tabs are not "tabs" at all and appear here.
Wherever yours are I will still call them tabs to avoid more confusion.
So before we start – what's the point?
When someone first comes to your salon page as a non-fan they often see the wall – a long list of mini-posts and comments. It tells them nothing about your salon, your skills, your offers or you.
There is the option to switch the "landing page" to one of the other tabs, but they are often even more boring.
Facebook are always a bit slow off the mark but recognised businesses needed a more striking and informative page than the wall so they gave us FBML – a Facebook-only coding language that allowed clever techies to modify the content of tabs. It was better than nothing – but not a lot.
Then last year Facebook allowed Iframes onto tabs, an industry standard ways of putting website content into pages. So suddenly these clever techies could do all sorts of new things inside tabs and we are just now seeing these tools being used by some larger companies.
So that's the background and the last of the jargon – what can it do for your salon's facebook page?
Why Tabs are so important for Salons on Facebook
[password-protect]
We can now produce a page that new visitors (non-fans) will see that is striking, informative and most importantly ensures they click the "like" button. If your visitors don't click that little button they are not a fan and we can't sell…. sorry, talk, to them every day with our snappy posts.
[/password-protect]
So stage 1 is an eye-catching arrival page like these that says "become a fan" !!!
This page can be very simple like the ones above, or can be much more detailed like those that follow. My preference is the simple "click me or else" approach.
Immediately they click "like" the page switches to another version with different images and text. So again, rather than the plain wall they see an eye-catching and interesting page that lets them engage with you and your salon.
The list of possible "boxes" on this page grows daily but includes –
Nice large images and text as banners
Clickable areas of images that send then off elsewhere
Downloadable vouchers
A comment box
A feed from your blog or Twitter for latest salon news
Embed a video
Contact forms
Google map
Salon Newsletter
Polls
Competitions
Product list
Image gallery
This is more new content and more up-to-date than most salon websites! So could your tabs on facebook be where you do all your selling, promoting, chatting, and informing? Absolutely!
The examples below show various tab layouts with all sorts of content. For each "box" you can choose if it only appears when they "like" your page or if anyone can see it.
Every box also has the option to allow comments if you choose – so a visitor could comment against a gallery image or leave an answer to a prize quiz. That comment is then posted to their page for ALL their friends to see. That is very powerful salon viral marketing !
Click a thumbnail to open in a new tab and then click again to view full-size.
Test examples of these pages can be seen on my facebook site on these links –
All use different mixes of images, text, blog feeds, sign-up forms, twitter feeds, galleries etc. And any item can be viewable by non-fans OR fans or both.
See an actual salon facebook fanpage with Tabs in action here using the approach of a more complex arrival page.
This is not a salon facebook page but follows the same pattern and is very clean and eye-catching.
More complex tools also allow downloadable coupons from the page for discounts or special deals – and these get posted back to the visitors wall e.g. "I just took a 25% discount voucher from Trends salon" with a link their friends can follow.
The new tab facility will revolutionise the way some salons promote their business – its instant, cost effective and viral.
Tabs are probably the 1st time in my guides that I suggest you need the help of a professional. Contact me if you need more information or help to create you fanpage.
Please "like" this page below and comment on my Salon Guru facebook page if you found this guide useful.
You can read and download this guide as a PDF file here