Our Salon Guru Client Journey – Gusto Hairdressing
Gusto Hair Salons in Soho, Oxford Street & Covent Garden, aim to ensure that everyone who walks through the doors has a thoroughly enjoyable and relaxing experience and leaves looking and feeling fantastic.
The Gusto stylists and colour technicians are always perfecting their craft and stepping up their game to ensure they produce the hair results, from a maintenance haircut, a complete restyle or an avant-garde hairstyle to a new bold fashion hair colour or freehand balayage look.
It's fair to say that the team at Gusto have re-written the rule book when it comes to the expectations you may have from a high-end London hair salon. The award-winning team strive to deliver the very best haircuts, hairstyles & hair colours in London at no-nonsense prices.
In March 2021, during the third UK lockdown, Salon owner Andre approached Salon Guru to build a search engine-optimised website for Gusto Hairdressing.
Our PRO contract gives Andre access to a wide range of services including website updates and blog creation, SEO expertise, newsletter campaigns and social media advertising to find new clients and staff.
"Prior to partnering with Salon Guru our website was very static indeed. More than anything, it has taught us the importance of having a solid, ever evolving digital footprint. This is what Salon Guru has afforded us, and then some! Few brick and mortar businesses can survive today without investing in online infrastructure."
Salon Guru started by creating a new fast-loading, interactive, informative and fully search engine-optimised website for Gusto Hairdressing. The website has eye-catching graphics, an easy-to-read layout and is filled with content that speaks with the voice of the brand.
STATS: Traffic to the Gusto website is up by 63% since March 2021
Salon Guru closely monitors the salon's 'Google ranking' for key hair and salon phrases in their location and takes action to improve any phrases that 'could do better".
In 2021 Gusto Hairdressing had only 5 phrases in the top 5 positions on internet searches. In September 2022, the salon had an impressive 48 phrases in the top positions, with the majority of these sitting at number 1. This is excellent ranking for a boutique salon group in the heart of London's West End.
STATS: In 2021 Gusto Hairdressing had 5 hair & salon phrases in the top 5 on Google search.
In 2022 they have 48 phrases in the top 5 spots
"They will absolutely create a website that will achieve your ranking goals!"
Every month, Gusto Hairdressing's dedicated Salon Guru Client Manager provides Andre and the team with a rolling 3-month marketing plan which contains ideas to help them find new clients, retain existing clients, promote their products and services and continue to get great Google ranking.
Regular checks are carried out on Gusto's Google Analytics to see which web pages people are visiting and to make sure the website is performing well.
STATS: Gusto have seen a 63% growth in visitors to their website.
"The customer experience is exceptional, everyone I have interacted with has been delightful, not to mention proactive in ensuring our website is always being updated with relevant features and content."
Salon Guru assists salon owners with Social Media Marketing campaigns to encourage new clients and advertise special offers. A New Client Offer campaign which Salon Guru created for Gusto was seen by over 40,000 women in London's West End.
STATS: One Facebook ad campaign was clicked by 1350 women in the West End of London
"I actually heard (Salon Guru Managing Director) Phil Evans being interviewed on the Grow my Salon Business podcast. He was talking about the work Salon Guru did for Voodou and the brilliant ROI's the campaigns were receiving. It compelled me to reach out to Phil, and the rest is history!"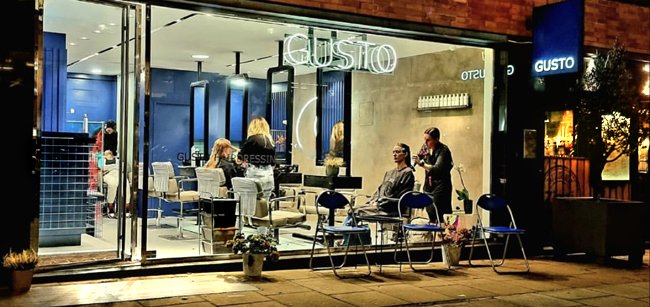 More information:
GUSTO SOHO
11 Brewer Street
Soho
London
W1F 0RQ
GUSTO OXFORD STREET
110 Wigmore Street
London
W1U 3RW
GUSTO COVENT GARDEN
224 Shaftesbury Avenue
Covent Garden
London
WC2H 8EB
Email: info@gustohair.com
The Gusto Hair website - gustohair.com
Fancy A FREE Salon Website Audit?
Are you a hair, beauty or aesthetics salon interested in a FREE website audit?
Contact Salon Guru by emailing info@salonguru.net so we can assess whether your website is meeting your needs.