Salon Websites – common mistakes – and how to fix them
These are some of the simplest ways to see if your Salon Website is failing in the most important areas.

But the quickest is our free Salon Website Audit report where we identify the issues for you
The first tool looks at your website and provides a quick report on the key problems. Go to this page and just enter your website address. It will give a detailed break-down of the most important issues that need fixing. They are likely to be the same issues as those listed in the 2nd tool.
The next tool uses the Firefox browser – so your first step is to download, install and use Firefox for all your Internet browsing. You can get it at by clicking the image below.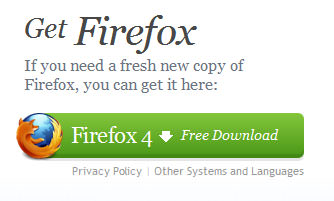 Once you have installed and are using Firefox you need to download a little Plugin called SEO Doctor. Once installed you now need to understand how to use the tool for diagnosing Salon Website problems.
With SEO Doctor now running in Firefox, go to your salon website and look at the top of your browser.

The area we have highlighted in blue should be your Salon Website address and the flag in the area we have highlighted Pink tells you if you have any problems.
A Red Flag means lots of problems and and Orange means a few.
If you have a Green flag you passed with flying colours. BUT, that is just your Home Page – navigate around the site and see if you have the same flag on each page.
Now we can see what the problems are with your salon Website by clicking the Flag and opening a window like this –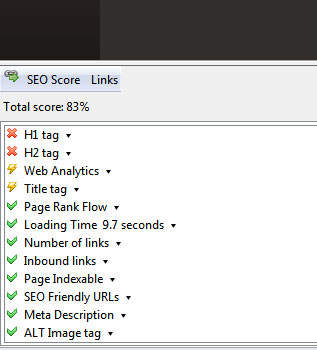 Clicking the down arrows next to any red or orange item explains the problem.
In this case they have no H1 tag and no H2 tags. These are the main heading and sub-headings on the page that tell Google what the page is about. So for a colour Page the H1 may be "Hair Colour" with some H2s of "highlights", "regrowth", "colour correction" etc.
Google uses robots to read your Salon Website and then calculate your position (rank) in any search for keywords in you area. It does this by understanding what your page is all about – and these tags are the most important indicators for Google. No Heading Tags will mean very bad page ranking!
The next problem is that this site has no analytics. These are the tools to measure traffic, visitors, search phrases and great deal more. You need to understand your Salon website traffic to make improvements. The tools are free and take seconds to install so why do you not have them?
The final problem on this Salon page is the Title Tag. It is present but has the Salon name and far too much text. The Title should be a short and succinct phrase of ONLY the keywords for this page. e.g. "Hair Colour Chicago – highlights, colour correction, regrowth".
This title is also what is shown above your entry in the search results for a phrase. Google suggest a maximum of about 60 characters.
Fixing these problems for each and every page in your Salon Website will produce a rapid improvement in your Google rank.
Approximately 90% of all salon Pages we visit have Red flags, and what is worse, their website developers have the same problems on their own pages!