How a Salon should market Aveda products
Follow these simple steps and make sure your maximises the opportunity from Aveda's latest advertising campaigns.
As an Aveda Salon you are an ambassador for a unique and aspirational brand and as this power-brand continues to develop and invest in advertising both on and off line, it is more important than ever that your salon can be found where consumers are searching.
When a powerful brand begins advertising on prime TV positions, you should expect there to be a surge in consumer interest, here is how you should take advantage of it.
Follow these simple steps to drive new salon guests through your salon door :
#1 Google Search
Make sure prospective clients can find you online. Ensure that your Google rank is good (top 3 places) for search terms such as 'Aveda Salon Manchester' 'Invati Stockists Edinburgh.' When a potential client searches in your town for a stockist you need to be the first they see!
James Dun's House is the perfect example of this. If you search for any phrase related to "Aveda Salon Aberdeen" their search position is incredibly strong. You will notice that the James Dun's House website and facebook page displays in each of the first 7 listings. Click the image to enlarge…
If you are top of Google, anyone who is looking for Aveda products or an experience is going to contact you!
#2 Aveda Salon Finder
Ensure that your website is listed on the Aveda Salon Finder with the correct contact details. Request that Aveda offer you a link to your website.
#3 Use Social Media Hashtags
Instagram and twitter are favoured by consumers researching brands. By using the appropriate hashtags for products and your location, you can expect more potential clients to find you.

#4 Display The most up to date Aveda images on your website
As Aveda promote their campaigns you should make sure your salon's website reflects their imagery. Prospective clients should be able to easily identify you as a up-to-date stockist of the products they are looking to purchase.
Take a look at the Manchester Aveda Salon, Fretwell Bennett; when you land on their website it is immediately evident that they are an Aveda Salon offering the very latest products and services.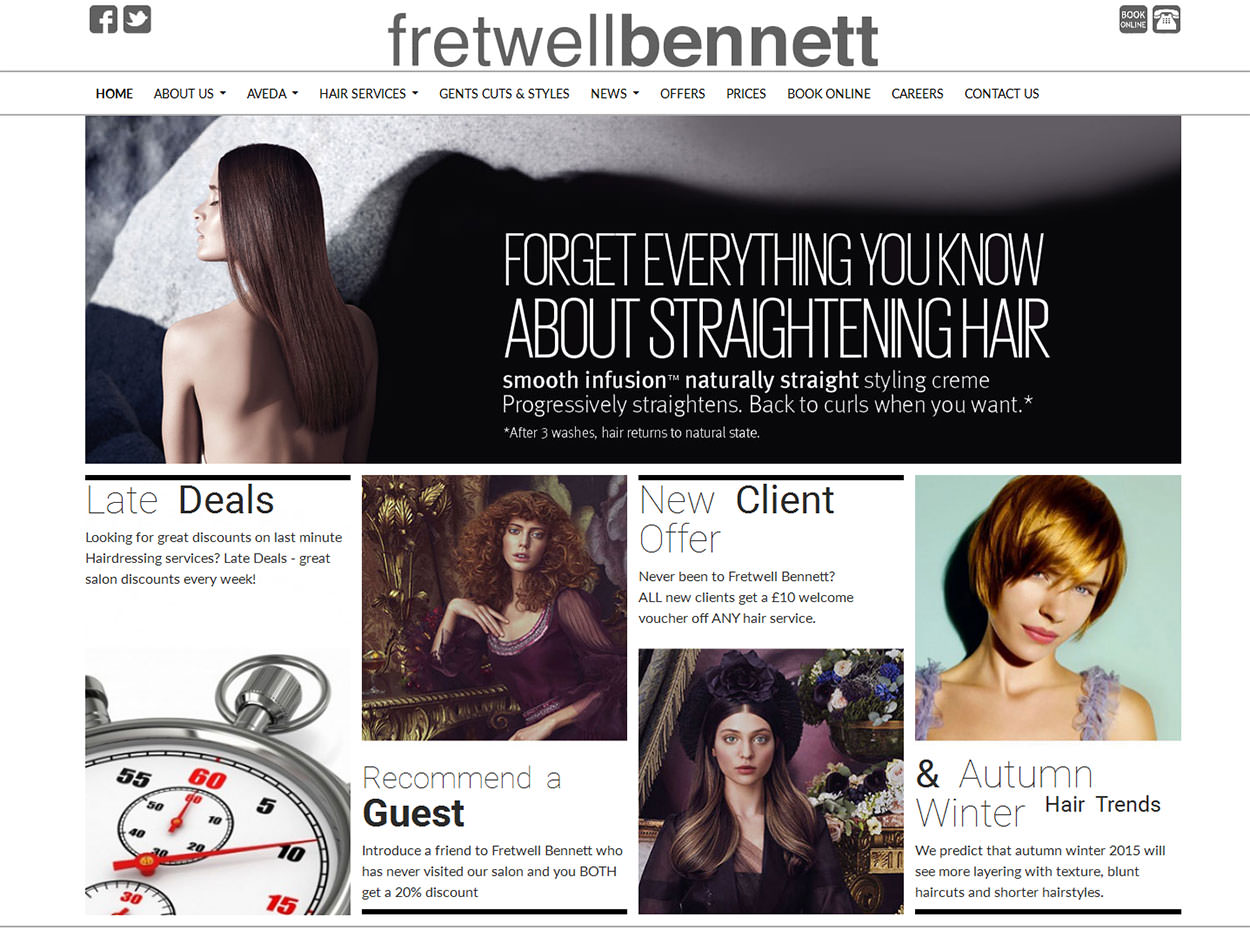 #5 Offer packages and gift voucher system
As an Aveda Salon you have an advantage. You are able to offer hair and beauty Gift packages with high-quality products. Suggestions of packages include : –
Mum To Be
Bride To Be
The Complete VIP Pamper Package
#6 Showcase the full Aveda range on your website.
The high-profile Aveda campaigns will create local demand for Aveda products, so it is important that you display the full range on your website. Excellent descriptions and videos are essential to make it obvious that you are able to provide the products and services that a consumer is looking for. If a product has won an award, why not write a blog about the features and benefits of this product?
Salon Guru are global experts in salon websites, online marketing and Google search. They support many Aveda salons from Glasgow to Miami.