Internet advertising for Hair & Beauty Salons
Once you have your new salon website and all the tools installed to monitor visitors, you are now ready to promote your salon and hairdressing services across the World Wide Web
However, unlike traditional advertising in local papers, magazines and radio or television – Internet Advertising for Salons is incredibly focused and instantly measurable.
Imagine the local radio station offered you an advert that could only be heard by people within 10 miles of your salon, were female and between the ages of 20 and 35. And the advert was free to place and you only pay for each client that picked up the phone and called you. Internet advertising can do that.
Or your local paper offered you an advert that was invisible to everyone except those people, actually looking through the paper to find a local salon for hair colouring. Internet Advertising can do that.
There are a number of different ways you can run highly-targeted marketing campaigns on the Internet, and all have the potential to reach large numbers of prospective clients at relatively low cost.
Facebook adverts for salons
We have described in detail the importance of your Fanpage in Facebook for Salons, but this massively used Social Network also offers incredible opportunities to promote your salon and your hairdressing services

Facebook allows you to target any advert by town/city, gender, age range and interests and then you can pay either just for people who clicked the advert (called CPC or Cost Per Click) or each time it is shown (CPM or Cost Per Impression).



You can also choose how much to bid for the advert space, so for high-value services and time-driven promotions you may bid higher than for a long running branding campaign.

So you could have a whole set of adverts running with different dynamics –
a general "salon awareness" campaign – your city, all ages and genders at a low level CPM
hair extensions – your city, female, aged 20-30, CPC at higher cost
Valentine gift ideas – your city, men and women, aged 20+, CPC at higher level with a cut-off date
Facebook Fan – your city, all ages, men and women, CPM low cost and linked to your Facebook page
You can choose the image, text and headline for each advert and also whether a "click" takes them to a page of your website or your Facebook page.
Costs of a typical salon advert on Facebook

The advert for Brazilian Blow Dry above shows that in 1 week 276 people clicked this advert and came to the salon website at a costs of $175 – a budget of $25 a day.
Over the lifetime of this advert (2 months) the salon spent over $1,500 dollars for 2,300 clicks at an average cost of $0.67 each. For a very high value service this is a great cost per potential client.
You can set your budget as low as $1 or £1 per day to ensure you stay within your financial limits.
A few slides with some remarkable statistics – the costs of a Salon Facebook advert and the new Fans it generated in 1 week
Facebook Adverts for Salons
We have many examples of various salon Facebook advert campaigns that we can share with you if you contact us.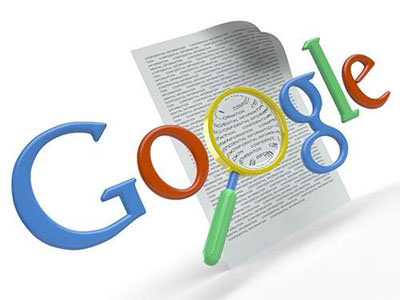 On many other pages we have stressed the enormous importance of search engines like Google, the necessity of a high ranking, and the considerable investment of effort over a long period that is needed to get your salon's SEO right.
But fortunately, for salon owners that want quick results, Google offer a way to "cheat at search engine rankings". OK, it is not really a cheat but a legitimate way to force your salon up the search results – but at a cost.
The image below (click to enlarge) shows the Google results for "Brazilian Blow dry in London", and you can see the highest position is taken by BrazilianBlowOut. But this is not a search ranking result -it's an advert.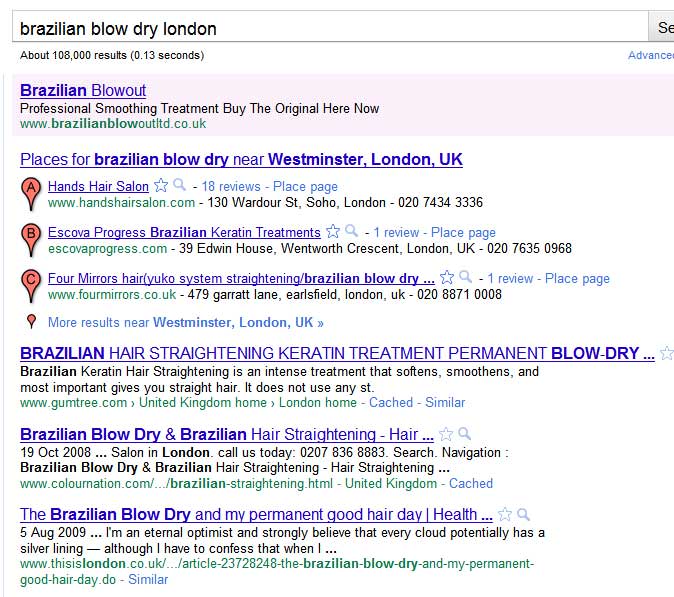 These "fake results" are called Google Adwords and will appear for many searches for all kinds of products: try some searches and look for the "adverts" either at the top of the list or to the right
Google Adwords lets you create an advert that looks like a search result, and then choose the keywords that will trigger the advert. So in this case the words were "Brazilian Blow Dry London".
Just like Facebook you can choose a daily budget and "bid" for positions. So for example you may decide that I will pay $1 or £1 for position number 1, or $0.60 for positions 2 or 3. You can create this kind of "advert bidding" for all your salon's keywords, or instead choose some high-value services with a great return on your investment.
Google Adwords is a great way for salons with the budget to force their way up search rankings VERY quickly – and they can give a short-term boost to any offer, service or product.
In the long-term, we plan to get the number 1 position through all our SEO efforts,and then Adwords becomes redundant.

The example above shows a Brazilian Blow Dry campaign run over 3 months on Google Adwords. It was shown over 4,000 times when triggered by the salon's keywords, 275 people then clicked the advert at a total costs of £231. The cost per click of £0.84 is higher than the comparative result from Facebook shown above:
However, although Facebook is targeted by location, gender and age – the Google advert was ONLY shown to people searching for that service – so targeted at actual buyers.
The ability to target keyword searches in Google Adwords is incredibly powerful, and it is a great investment of money for key services or for shorter campaigns.
…and the others
In addition to Google and Facebook there are many other types of online advertising.
We have tried most of these with generally poor results.
Adsense places your advert in webpages that relate to your product – so you may appear on websites for brides, beauty tip pages, hair advice etc. Adsense often lacks the fine control that keywords provide so well in Google or locality that Facebook and Google deliver.
Banner adverts on well chosen local sites like a regional newspaper websites will produce some traffic, but these are again not targetted by keywords, gender or age.
If you are going to invest in online advertising for your salon then we believe, at the moment there are only 2 very clear routes – Facebook and Google Adwords.