Salon Late Deals — the SaloniQ offer
Exclusively for SaloniQ clients we are waiving the £100 set up fee and there is NO monthly standing charge.
This means there is nothing to pay unless a Deal is sold, and then at a much lower transaction cost that Treatwell.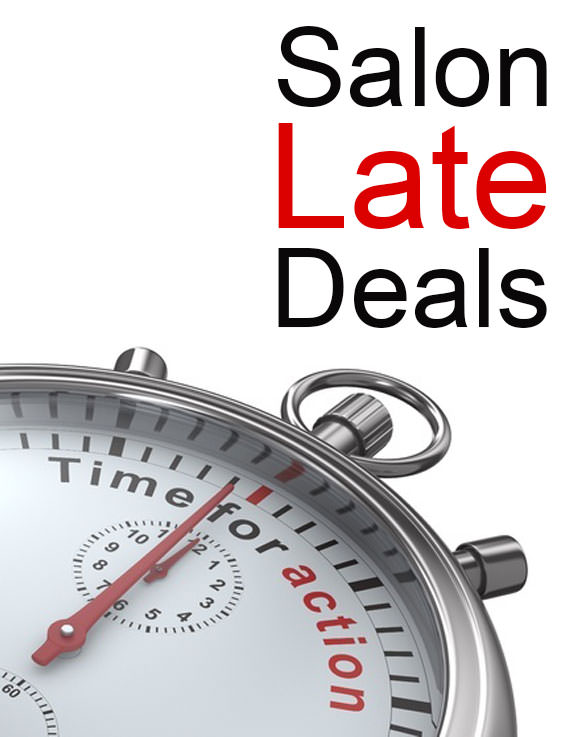 Most salons have quieter times of the week or staff that need more clients. Salon Late Deals is the award-winning tool that allows you to actively promote and sell empty appointments.
Salon Late Deals is a promotion tool to help you attract more clients. It is not an appointment handling system.
Salon Late Deals won Best Innovation at the British Hairdressing Business Awards and has been used with great success for a number of years by leading salons across the UK.
Late Deals was developed by Salon Guru, by far the largest provider of Salon Websites in the UK and twice winners of Best Salon Website.


Typical
monthly sales
per salon
£1,000
Average
Late Deal
sales value
£35
Average number
sold per month
per salon
28 deals
The most Late Deals
sold by a salon
in 1 month
£6,000
How Salon Late Deals Works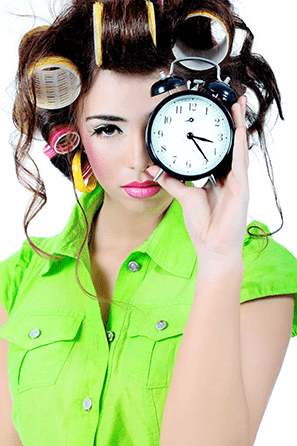 1 Set-up. We create your FREE listing on YourSalon.co, one of the world's best salon directories, and give you a single line of code to place the deals onto your website.
2 Add Deals. You login to Yoursalon.co to add your own Late Deals for any service, any day, at any discount and in the quantity you choose.
3 Sell. Clients visit YOUR website to buy Deals and you get an email when a deal is sold. You get instant payment into your Paypal account.
4 Manage. You call the client to book them in on a day/time to suit YOU.
You can see all claims and contact info on your Deals status page.
You can also export client info for email and text marketing.
Some of the many salons that use Late Deals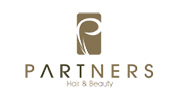 The Costs

For this SaloniQ limited-time promotion set-up is FREE (normally £100).

The per-transaction charge is 6% of the value plus £1.50. (From the 6% we pay the 4% Paypal fee).

Payments are instant from clients to your Paypal account, with the transaction fee automatically deducted.
Other apps and deal sites
Salon Late Deals is all about offering a limited number of discounted appointments to fill quieter salon times.
You decide the level of discount and can control the number available at all times.
We are proud of the fact that 80% of Late Deals are bought by new clients.
Gappt.
Pro
Treatwell
Salon
Late Deals
Set-up costs
£150
None
None
Monthly charge
£65
£30
None
Transaction fees
10p per SMS
20% variable
6% +£1.50
Ability to add discounts
No
Yes
Yes
Client controls the appointment
Yes
Yes
No
A page on the Salon Directory
No
Yes
Yes
Bookings from new Clients
20%


(from Gappt website)

Unknown
80%


(from salon feedback)

Will they target your clients?
No
Yes*
No
*If you Google many salons the 1st link is a Treatwell advert that includes the salon name - enticing clients to book via them - and they "earn" their fee.
What our clients say
"Late Deals produces over £1,000 of new income every month."

"Late Deals has had a big effect our salon income with no more quiet days"

"Salon Late Deals is the best salon business and marketing innovation this year"
"Generates more income than ANY other marketing tool"
"Salon Late Deals fills empty seats with new clients"
Frequently asked questions
? Do I need a Paypal account?
A Yes - and we have a simple guide to help.
? What happens if we refund a Deal?
A We refund the client's payment and the 6% transaction fee..
? Am I stuck in a contract?
A No. You can stop using any time and there is no charge if you do not use it.