Hair Salon Facebook pages – our free guides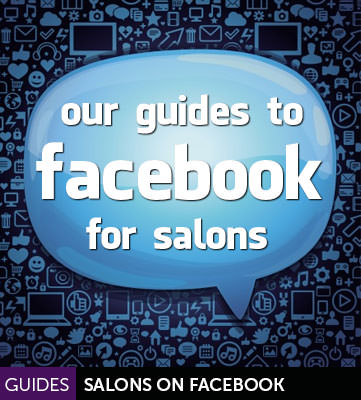 To create the best Salon Facebook page and then use it to great effect, there are some simple steps to follow.
We have presented these in 4 easy-to-follow facebook for salons guides in a logical order and with links to external sites where they may help.
The Topics covered in the guides –
Click the heading to open that guide…
your personal Facebook page
set up your Salon's page
adding a logo
adding your business information
adding admins
using your friends & family
inviting your clients
spread the word in-salon
viral Facebook invites
using Facebook adverts to promote your page
examples of how other Salons get Facebook fans
Getting the right "voice" for your page
Planning regular updates
How to make it interesting
Using images and video
Examples of other how Salons post on Facebook
This section covers the great, but underused, feature of Apps in Facebook. They make a massive difference to how Facebook pages can work for salons.
With salon facebook apps you can present a welcome screen to new visitors who are not yet fans, run competitions, feature videos, have online booking …and much more.
They work like mini web-pages an offer a screen full information that is interesting, eye-catching, up-to-date and gets them to engage in your page.