Downloadable vouchers for salons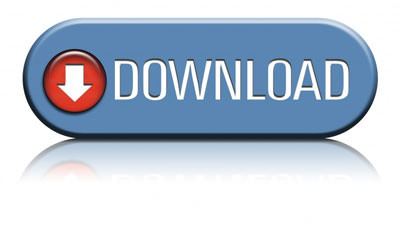 Over the past 3 years some of the most successful salon campaigns I have managed have involved a downloadable voucher.
If the word "voucher" is a turn-off, would 370 new salon clients in a month change your mind?
We have achieved those numbers this year for a small salon chain with a vigorous marketing campaign.
How vouchers can attract a lot of new clients to your salon
The first step is agreeing the "offer" that will be made, and using a real-life example, let's decide to offer 50% off a Cut & Finish for the month of January, when everyone is feeling the post-Christmas financial stress and salons can be very quiet.
We create a page for your site that describes the offer, and using the Email Manager software we embed a small form in the web page where visitors enter their Name, Email Address and how they heard about the voucher offer.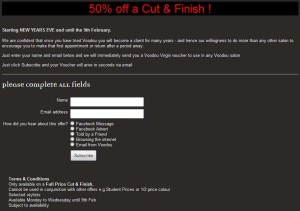 An example voucher web page
The software automatically sends an email to new registrants, and that email is the "voucher" they take into the salon and redeem for the offer. The name and address is stored for future campaigns and the vouchers are counted and recorded in-salon to monitor the bill values and numbers used.
This is an example New Client campaign over a 4 week period and the results –
To maximise the impact of the offer a posting campaign was run on the salon's Facebook wall reaching 7,500 people, emails were sent to all 9,000 captured email addresses and Facebook adverts were placed offering the "January Sale" voucher.
The salon's own website also had lots of prominent adverts for the offer to grab the attention of casual visitors.
Over the course of the 4 week campaign more than 1,200 vouchers were downloaded.
The 1,200 vouchers produced 370 new clients with an average bill of £26 ($41) producing turnover of £9,600 ($15,000).
This is a perfect example of how downloadable vouchers can have a dramatic effect on salon turnover. They are not suitable for every occasion, and they require a good offer supported by a very energetic marketing campaign.
But 370 new clients in January and almost £10,000 justifies all the effort
I have many more examples of great voucher campaigns and some surprising results as to which method of promoting the offer produced by-far the best result.
I am happy to share this information with any salon owner that contacts me.
An alternative to Groupon for Salons
I have written a detailed guide to Groupon for Hair & Beauty Salons, but why would you offer a minimum 50% discount to all clients and then share the massively reduced income with the voucher provider?
Using the method above you control the discount, you control the campaign and you keep all the income.