Petition To Rescue Hair & Beauty Salons UK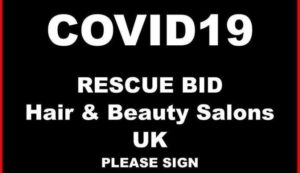 Hair & beauty commercial salon owners are not only facing the already challenging impact of the failing high streets but also face what could potentially be a financial catastrophic phase resulting in what could be over 40,000 retailers facing extreme hardship and potential closure.
Salons provide services to prop up the high street and are also considered the hub of our communities so they play a massive part in maintaining high street presence.
The Coronavirus outbreak and any potential lock-down will have a devastating effect on many salons in the UK and, indeed, across the world. Please click here to read more and sign a petition calling for Government support for the hair and beauty industry.